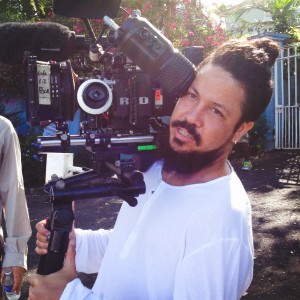 Storm Saulter is a filmmaker, photographer and visual artist born in Negril, Jamaica. He is the writer and director of the award-winning feature film, BETTER MUS' COME - which opened in US Theaters and Netflix in 2013, and on BBC TWO in the UK in 2014. The film has been hailed by critics for signaling a new movement of independent filmmaking throughout the Caribbean.
---
Saulter is the co-founder of the New Caribbean Cinema collective; A pioneering effort to showcase the next generation of Caribbean auteurs using low budget communal filmmaking tactics. The collective's first feature film project "Ring Di Alarm!" – a collection of 7 short stories by different directors – made it's debut at the British Film Institute in London in 2012.
He was awarded the Jamaica Gleaner Honor Award in Entertainment and named one of the 50 under 50 Business leaders shaping Jamaica's future. His experimental films have been exhibited at The British Museum, The Brooklyn Museum, The Museum of Contemporary Art, The Royal West of England Academy, The National Gallery of Jamaica and in numerous exhibitions globally. His photography has been published in Rolling Stone magazine, the FADER, and Billboard magazine to name a few. Saulter splits his time between Los Angeles, California and Kingston, Jamaica. Storm recently completed his 2nd feature film SPRINTER, the story of a Jamaican teenage track star. 
Quotes
…Saulter, who serves as his own director of photography, has a poet's eye for detail, capturing the beauty of his native country, even in its most extreme poverty. The movie's title, a message of hope for the future, could easily apply to the filmmaker as well.
- LA TIMES | Glenn Whipp
There are some films that mesmerize like a slowly burning fire. The embers, glowing shades of red, gold and orange, mixed with smoky black, pop and explode unexpectedly, and the sparks keep the onlooker from getting too close. That is exactly the feeling that is evoked in the new film by Storm Saulter called Better Mus' Come.
- HUFFINGTON POST | Craig Carpenter